Our Web Marketing Service.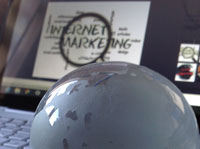 We provide advice, resources and expertise on how best to promote your business and company website on the Internet, and the modern world of mobile communications.
We work with you to create the marketing information and material to engage your target audience.
We work together, on developing a marketing plan, which tells your customers the things that they need to know about your products and services to increase your sales.
This marketing plan will set out
•    Who your target audience is
•    how we will communicate to your audience
•    how often you want to connect with them
•    how much effort and resources we will need to do this
•    how long it will take
•    how we will measure success
What is Web Marketing?

Web definitions
1.    Online advertising, also called Internet advertising, uses the Internet to deliver promotional marketing messages to consumers. It includes email marketing, search engine marketing, social media marketing, many types of display advertising, and mobile advertising. …
http://en.wikipedia.org/wiki/Web_Marketing
As the Internet grows and changes the number of ways in which you can tell your audience your marketing messages increases.
Simply having a website active on the internet is marketing.
There are lots of businesses using the internet to promote their services. The most challenging aspect is to get your message heard above the rest.
There are many techniques and channels you can use.
Contact us to arrange a free consultation 01942 704027