Organic SEO Results

Organic SEO is the process of optimising your website content to be listed in the top 10 results and on the first page.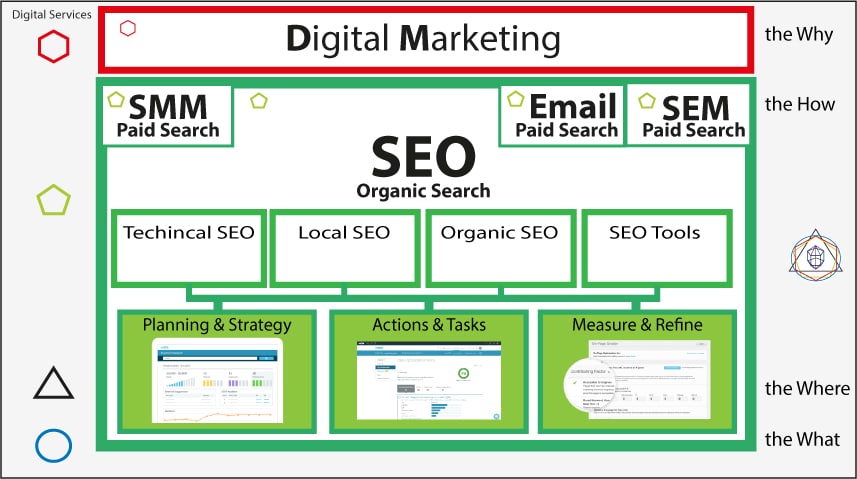 Statistical studies show the higher up this list the more users will come to your website. This increases the volume of traffic to your site, and increases the chance to either buy your products or engage with your company.
Search results are displayed on the page along with other information results and Paid Adverts.
Organic SEO is the listing of the best 10 results which closest match the search query the user entered.
Over time search engines have improved the way they answer user's request.
In the race to be the best search engine with the best source of useful information that the users will keep coming back to, the search engines have started to answer the question directly or include more relevant information and paid advertisements.
After the search engine have reviewed your website content and understood what your content is about, they rank how useful it is compared to user's request.
This gives us the Organic Listings on the Search Engines Results Page (SERP's).
Look here for more information on how the SERP's are formed.
As this listing process is done by the Search engines they don't charge you for this, which why this gets called a FREE listing.
Organic SEO is important as it still gets the highest volume of website visitors, more than any other search results group.
Other Important SEO Factors
Other aspects of SEO that is important are:-
Technical SEO

Looks at the way your website information or content is presented and relevant for a user

Organic SEO Results

Looks at how well your web page serves the relevant user request

Local SEO

Local SEO is all about how well the search engines understand your Geographical relevance to the users search request.

Google's Knowledge Graph

A display panel that holds standard information about a business or person. An entity relating to other entities.
More info about Local SEO from MOZ
Organic SEO Tyldesley were we are based
Organic SEO Walkden were our Customers are
Organic SEO Bolton were our Customers are
Organic SEO Manchester were our Customers are
FAQ's
Search Engine Optimisation FAQ's
What is SEO and how does it work?
Search Engine Optimisation (SEO) is a digital Marketing Technique to get your website content to the top of ORGANIC (FREE) Search Engine Results and in front of your customers, before your competitors. Using best practices to present your content enables Search Engine to inform People you have information to help them with their search intent (how to Do, to KNOW, to find a WEBSITE, to VISIT in Person).
Why is SEO important?
SEO is important because how people make choices keeps changing. They used to look up in a book for information to assist them to satisfy their intent (how to Do, to KNOW, to find a WEBSITE, to VISIT in Person). Search engines now have to provide these answers vis Desktops, Mobile Phone, Home Speakers, and Home assistants, (Google Assistant, Amazon Alexa, Apple's Siri, Microsoft's Cortina).