The Four Cornerstones of Digital Marketing.
The four cornerstones of constructing a successful digital marketing campaign.
Every campaign starts with the All important Business Goals.
Your business goals are important because they are the things your business needs to achieve. All tasks undertaken should meet these requirements. Your Website and Social Media Networks are the main platforms we use to reach your customers.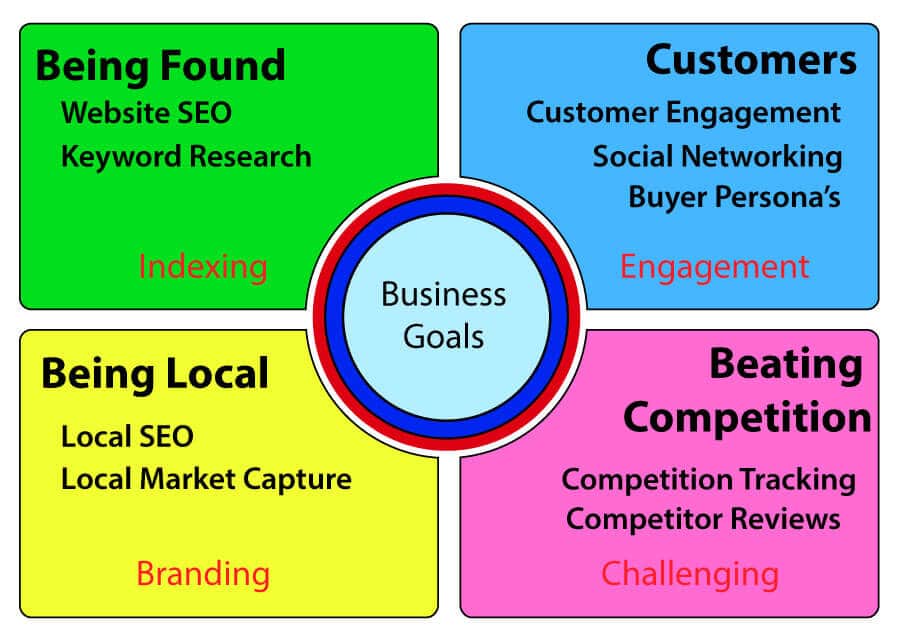 Being Found
Being Found (Indexing).
This cornerstone looks at how best to optimize your website and social media activities to get found by the correct group of people. Finding the best keywords and phrases to use to attract customers looking for the services and products you provide.
Being Local
Being Local – Local SEO (Branding).

This cornerstone focuses on getting you listed in local search results.
When search engines or directory listing site build up a register of local business, that they then relay back out to search lists of information requests. These organizations build up these lists by obtaining the information from trusted sources of information aggregators like Yellow Pages, 118 118, etc.
Providing constant accurate information is important. Giving the basic information such as Name Address and Phone number (NAP) means that the same message is always given, and internet sources can trust this reliable information as it is consistently found and verified on the internet.
Your Customers
Your Customers (Engagement).

This cornerstone is designed to focus on who are your customers, profiling the things they are looking for and how best to reach and then engage them with your business. Finding what your customers need and being the best at providing it to them
Beating Competition
Beating your competition (Challenging).
This cornerstone looks at who are your competitors both on the high street and on-line.
Developing strategies to understand how best to outperform them and minimize any impact they may have on your business. Measuring and monitoring how much your progress you are making.
All of these corner stone's form an important feature of the campaign, but most of all these must be related back to your Business Goals.
5 Important factors for any Digital Marketing Campaign.
1.    Mobile – must work well on mobile devices.
2.    Organic Search – listed in the search engine's top 10 list.
3.    Content Marketing – giving the person what they what.
4.    Social Media Marketing – a powerful connecting tool.
5.    Nurturing website visitors and Email Marketing – getting people to engage with your business.