Is this cheating when it comes to being found on the internet?
Yes from a traditional website search point of view.
In the past you made a website as good as you could, interesting to your Customer / Target Audience and Google listed what if thought was best 10 pages that matched your search term, This list is commonly call an organic listing (10 Blue Links).
Being found online
In 2016 Google changes the way it was displaying adverts in its search engine results pages (SERP's).
On the face of it simply moving the adverts around on the page may not have seemed a big change, however if you now look at the fact that in 2017 over 80% of searches are now carried out on mobile devices, this places the adverts at the top of the screen and in most search case's only adverts on the small screen, and reduces the number of organic listed websites to about 6 on the front page. It's harder for users to see the difference between adverts and website listings.
The effects are even greater if the search term is popular (more profitable)
AdWords Screen Shots size differences
The screenshots clearly show how being found online and the big an impact AdWords is having in the mobile view no websites (organic) are listed and are not even displayed without scrolling down.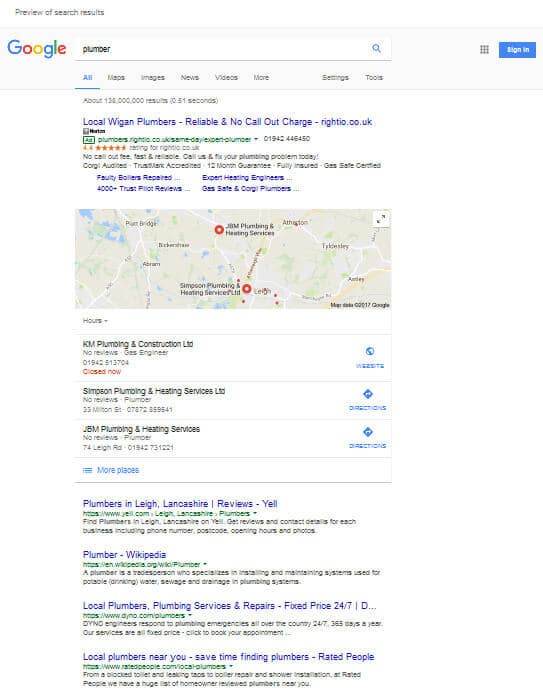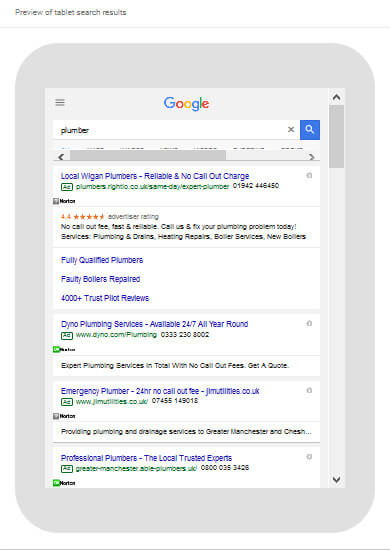 Search Engine Results Pages (SERP's)
With the addition of 16 more additional search feature the space on the front page gets even smaller and with a small screen mobile device it leaves no room at all.
Google is moving more towards answering the searchers questions on the front page of the SERP.
Getting the information from the websites first then showing you the data source (website), as well as sourcing data from other internet places.
How do you keep up with this Data Race?
The Data Race and being found online used to be your website, but now it's also your images and photos, social media accounts, your adverts, customer reviews and customer review websites, comparison websites, and Listing websites.
More reading:- Are You Making These 10 Common Google AdWords Mistakes?
5 essential ways to compete with Google AdWords
Use AdWords to boost your business
Get Listed in Google Map database
Optimise your website for images and questions
Get reviews to promote your business
Keep evolving and don't standstill Google will not wait
call to action
Don't get left behind in the
Data Race
If You want to use 1 of these 5 features above to Move ahead of the Race,
Use this simple form to Contact Us